GSoC 2013: Week 6 of Grandham project
This week I've been mostly fixing bugs, refactoring code and building admin features. Grandham has built in checks to avoid duplication in Authors/Publishers now.
Submission Review Interface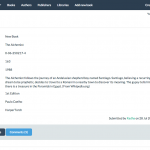 We have a new interface this week -  A screen to review crowdsourced information submissions. Administrators can use this feature to control the information displayed to user. Currently every review item has 3 actions - Approve, Archive or Comment. Out of these, 'Comment' is a new feature which needs to be implemented. It will be helpful for the task force to generate discussions around specific submissions.
Miscellaneous
After a couple of rounds of refactoring, Grandham got a Code Climate score of 4.0 from 1.61! :)